Osteopathy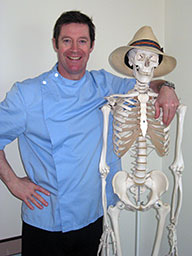 Osteopathy is an established system of diagnosis and treatment that lays it's main emphasis on the structural integrity of the body. It is distinctive in the fact that it recognises much of the pain and disability we suffer stems from abnormalities in the function of the body structure as well as damage caused to it by diseases.
It uses many of the diagnostic procedures involved in conventional medical assessment and diagnosis. Its main strength, however, lies in the unique way the patient is assessed from a mechanical, functional and postural standpoint and the manual methods of treatment applied to suit the needs of the individual patient.
About Osteopathy
Osteopathy is a 'hands on' manual therapy and one of the oldest approaches to treatment of injuries in the joints, muscles ligaments, fascia and tendons.
Treatment can improve many parts of the body by restoring normal movement in areas that have become dysfunctional. This allows the tissues to nourish, replenish and repair themselves more naturally.
After a specific injury to a part of the anatomy, the body accomodates by adjusting the posture to the most pain free position whilst placing the eyes firmly on the horizon. The final adjustment is in the delicate area of the neck and back of the head.
Hence headaches being the final symptom of lower back or foot problems which patients may be unaware of.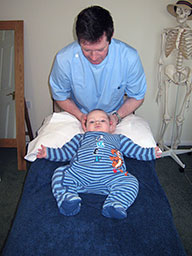 Compensation gradually builds up until the body cannot accommodate more change, at which time it may break down at the weakest part after something quite trivial.
The osteopathic approach involves looking at the whole body, not just treating the immediate area of pain. Osteopathy is a system of complete medical practice, based on the principle that health depends on the maintenance of proper relationships among the various parts of the body. According to osteopathic theory, defects in the musculoskeletal system the muscles, bones, and joints influence the natural function of internal organs. To correct structural abnormalities, osteopathic therapy, or treatment with the hands or by mechanical means, is used.
The practitioner, the osteopath, may use this treatment alone, in combination with other accepted therapeutic methods such as drugs, surgery, and X-ray treatments, or not at all, depending on the needs of the individual patient. Osteopathic medicine holds that true health involves complete physical, mental, and social well-being, rather than merely the absence of disease. The body is viewed as having a capacity for health that the osteopath can help the individual fulfil. He or she must therefore treat the whole patient, considering such factors as nutrition and mental habits in addition to the physical symptoms. The fundamental principles of osteopathic medicine were formulated in 1874 by the American doctor Andrew Taylor Still. Still organized the first osteopathic medical school at Kirksville, Missouri, in 1892.
Opening times:
8.00am - 6.00pm Monday to Friday.
Appointments outside these times by arrangement.
Corvus Osteo Ltd, 16 Newynn Court, Bridge Street, Bideford, Devon, EX39 2BU, UK.
Tel:
+44 1237 471 110 |
email:
info@devonosteopath.co.uk